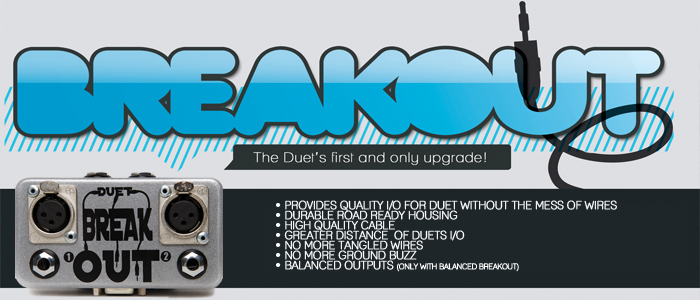 BALANCED BREAKOUT:
The BREAKOUT takes the duet up a notch but our new Balanced BREAKOUT takes it to the next level. Now you can shed the wires and get a balanced signal out of your duet!!! Perfect for those long runs through a studio patchbay, live gigs, or just another culprit of noise to knock off the list.
The Balanced BREAKOUT is a little bit bigger and alot heavier than the standard BREAKOUT. Inside are 2 Jensen transformers that convert your duets unbalanced output to balanced without changing the sound of your duet. It is still 100% passive and line level.
The inputs sport Neutrik combo jacks. The outputs can be XLR or TRS. Available in our standard colors Silver or Prismatic Black.
You can get the Balanced BREAKOUT from any one of our dealers or dierect from us!!!