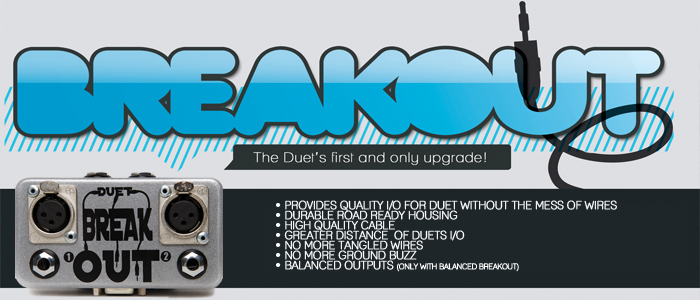 BREAKOUT: FAQ's
Q. Why would I want a BREAKOUT?
A. You may not absolutely need one now but we know that you will in the long run. The life span of the breakout cable provided is very short. Especially if you are on the move alot. We noticed our supplied breakout cables would go after about 3 months of use.
Q. What is a SexChange?
A. It is the process of changing the connectors of the BREAKOUT to adapt it to every users unique setup. Click Here for more details.
Q. Does the addition of the BREAKOUT BOX affect the A/D D/A conversion quality of the Duet?
A. Adding the BREAKOUT to your Duet does NOT affect your sound. Dont take our word for it Here are a few samples recorded with the original breakout cable and with the BREAKOUT Box.
Q. Does the BREAKOUT have a guarantee?
A. Why wouldn't it? On top of our skilled soldering techniqes this thing is a tank. It's up there with the SM57. If you need a hammer and the BREAKOUT is within arms reach, feel free. If for some reason you do have a problem we will fix it. Just contact us.
Q. I lost my card for a free SexChange. What do I do?
A. Contact us, we can issue you a new one.
Q. Can i use a standard VGA/Monitor cable to extend the breakout?
A. No. Although it looks like a VGA cable it is a little different. The pins on a VGA cable and the duet are different. A VGA cable has 15 pins and the duet breakout cable has 14. If you want to extend it we recommend grabbing the 10 ft extension from our store.
Q. Can you make a BREAKOUT with balanced outputs?
A. Well we've been asked this question so many times that we decided to go do it. But if we did it we had to do it right so it wasnt cheap. Check out the Balanced BREAOUT Here
Q. Can you make a rackmount version of the BREAKOUT?
A. Although we though about it. We wont be making rackmount version of the BREAKOUT
Q. Do you ship outside USA?
A. We sure do, you will find BREAKOUTS all over the world. Paypal will adjust your shipping if needed.